Enso and Partners Launch UK's First Transmission-connected Solar Farm
A 49.9MW solar farm, owned and operated by Cero Generation and Enso Energy, will be the first in the country to feed electricity directly into the transmission network.
The renewable generator will be co-located with a 49.5MW / 99MWh battery energy storage system.
The first-of-its-kind co-located solar and battery project marks a significant step towards creating a secure, home-grown energy system for the UK and its 2035 decarbonisation targets.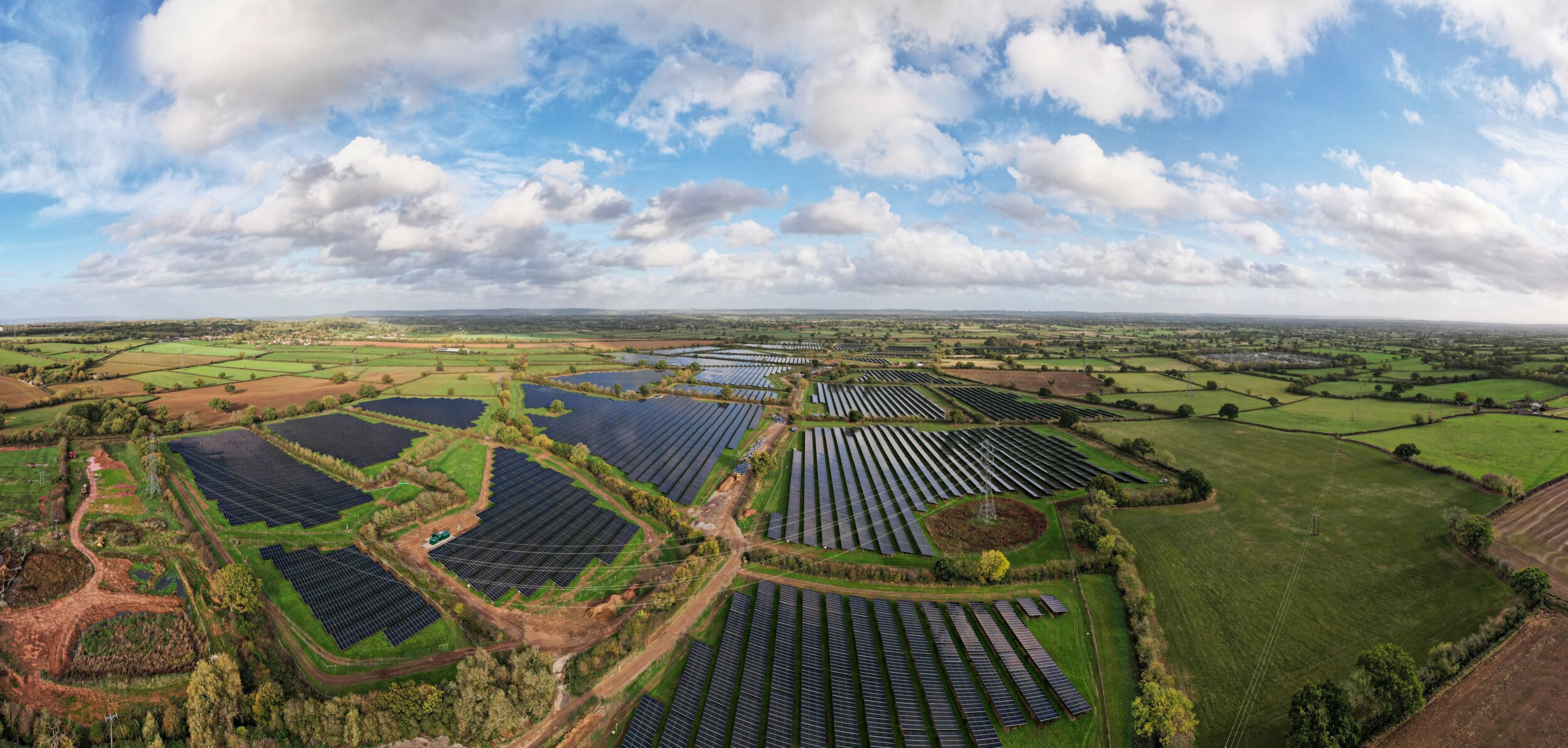 Cero Generation (Cero), a leading European specialist in solar energy development, production, and storage, together with their UK development partner Enso Energy (Enso) have announced the energisation of the first solar photovoltaic array (PV) to connect directly to the electricity transmission network in the UK.
This follows installation of new switchgear at the site by Cero and Enso in collaboration with National Grid, and the running of a high voltage cable between the substation and solar farm, which has enabled National Grid to successfully connect the 49.9MW Larks Green solar farm to its Iron Acton substation near Bristol.
The solar plant comprises 152,400 solar modules installed in a 200-acre plot near National Grid's 400kV Iron Acton substation. It will generate over 73,000MWh annually – enough to power the equivalent of over 17,300 homes – and will displace 20,500 tons of CO2 each year compared to traditional energy production. This will provide a clean, secure, and cheaper power source for consumers.
The solar farm will be co-located with a 49.5MW / 99MWh battery energy storage system (BESS), which is expected to reach financial close shortly. By storing energy during peak power generation and exporting it back onto the grid when demand is high, the BESS will balance the intermittent energy production, maximise the site's efficiency and allow a greater output of clean energy.
Until now, all of the UK's solar farms have connected to the country's distribution networks – the lower voltage regional grids that carry power from the high voltage transmission network to homes and businesses. Connecting solar power directly to National Grid's transmission network marks a significant step in the renewable energy transition, allowing clean energy to be transported over greater distances and opening a gateway for larger projects to connect to the grid.
The announcement marks progress towards meeting Britain's commitment to a fully decarbonised power system by 2035. The government's recent Powering up Britain report reaffirmed its ambition for a five-fold increase in deployment of solar generation by 2035, with up to 70 GW installed – enough to power around 20 million homes.
The design and layout for the co-located solar farm and BESS will produce a net biodiversity gain. This will be achieved through the provision of a range of resources for local wildlife, including additional woodland planting, that will provide shelter and food for a range of protected species.
Marta Martinez Queimadelos, CEO of Cero Generation, says:
"We're proud to be celebrating a major step in the UK's renewable energy mission and in our journey into battery storage, recognising the vast benefits of co-location in moving the green transition forward and contributing to our mission of delivering a net-zero future, for this and every generation. As the country's first solar project to connect to the transmission network, it represents true innovation that paves the way for others to follow and enable the rapid deployment of much more clean energy.

"The Larks Green project is not only a significant milestone for Cero and an opportunity to initiate our BESS pipeline, but it represents a significant contribution to the UK's goals to reach net-zero. I'm immensely proud of the dedication and collaboration of the Cero, Enso and National Grid teams in achieving this important milestone in the UK's energy transition."
Ian Harding, Co-founder and Director of Enso Energy, said:
"The connection of this solar farm at Larks Green is the culmination of a lot of hard work by all the Enso, Cero and National Grid teams involved. Completion of this project is a major milestone for renewable energy in the UK and provides further evidence that co-located solar and battery storage projects connecting directly to the transmission network will play an important role in the delivery of the UK's net zero plans. We are now looking forward to working with Cero and National Grid to deliver the further pipeline of renewable energy projects in the UK portfolio to help achieve this ambition".
Roisin Quinn, Director of Customer Connections at National Grid, said:
"Solar power has a critical role to play in the clean energy transition, so connecting the first PV array to our high voltage transmission network represents a key step on that journey, and a great achievement by Cero, Enso and our engineering teams.

"This net zero milestone comes as we're investing in the biggest upgrade to the grid in a generation, enabling more home-grown renewable electricity to power the country than ever before. We want to connect more, and faster, and are working with government, Ofgem and industry to reform the connections process to accelerate Britain's transition to a cleaner, more secure and affordable energy system."

Cero has 38 other standalone or co-located BESS projects in its UK pipeline within its partnership with Enso. The joint venture's existing pipeline extends to 5GW, and a further 5GW of early-stage opportunities.

Connections to the grid are part of National Grid's ongoing investment to upgrade, adapt and maintain its transmission network. Since 2018 it has spent around £5 billion on its infrastructure, and plans to spend £9 billion in the five years to 2026, with further multibillion-pound investments beyond that to 2030 to deliver an affordable, resilient and clean energy system.

National Grid is working with ESO and industry to introduce a series of measures to help speed up connections to the electricity transmission network, including a connections amnesty, new arrangements to manage the connections pipeline, and a new two-stage offer process.
To Read more about this article and Cero Generation, click on the button below.